Meet Your Doctors
About Dr. Natalie
Dr. Natalie Durbin opened Cambridge Animal Hospital in July 2010 after recognizing the need for an animal hospital that could offer pets high quality veterinary care but in a way that was affordable for owners. It was also important to Dr. Natalie to create a practice that had a family feel and was welcoming in nature - and soon Cambridge Animal Hospital was born.
Dr. Natalie graduated in 1999 from Colorado State University College of Veterinary Medicine. Upon graduation she moved to California to practice in the Central Valley. After 2 years of desperately missing her native state she moved back to Colorado and practiced in Greeley for 10 years.
Dr. Natalie is a firm believer in compassionate animal care and is committed to providing comprehensive, client-oriented veterinary services to your pet. She loves all aspects of general practice however her special interests include dentistry, soft tissue surgery and brachycephalic breeds (bulldogs).
When not at the clinic, you can find her wrangling her 3 children; Isabella, Megan and Aidan. Her hobbies outside of treating patients include hiking, jogging, horseback riding and eating chocolate.
Dr. Natalie is a proud member of the American Veterinary Medical Association and the Longmont Chamber of Commerce.
About Dr. Garvin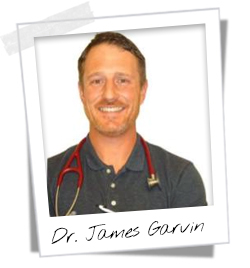 I am originally from Rockford Illinois. I did my undergraduate work at Southern Arkansas University. I graduated from the University of Illinois College of Veterinary Medicine in 2005. I arrived in Colorado in August of 2007. I have worked for Banfield Pet Hospital before coming to Cambridge.
My interests include distance running, baseball and watching my children with their many endeavors. I am engaged to Kelly O'Connell. I have two sons, Brennen and Donovan, as well as one daughter Kailyn.
Pets include: two cats, Smoke and Shadow and five dogs, Jaxx the Doberman, Pan the Golden/Pit mix, Charlie the Lab mix, Maggie the Bassett Hound and Sookie the Min Pin with cerebellar hypoplasia.
About Dr. Thornton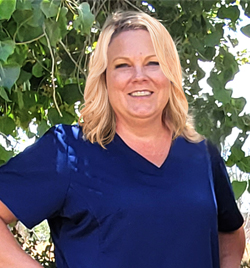 I am originally from Las Vegas and currently live in Thornton, CO. I received my undergraduate, master's degree and DVM at Colorado State University. I have been working in veterinary medicine along the front range for 5 years.
I currently live in Thornton, CO with my husband and two young daughters. I enjoy traveling, reading and family time. My pets include two Cornish Rex cats, a Pug, a standard Poodle puppy and an Amazon parrot.